Metal Deck Foam Plugs
Foam closures are available in a variety of widths and materials to meet your projects needs. Our closures can handle extreme weather and varying temperatures. These flexible and lightweight closures are designed to handle closure shrinkage, moisture absorption, vapor transmission, and noise migration issues.
Need Help? Call (410) 796-7968
Description
Use Foam Closure to complete the installation of your corrugated roofing system. Solid closure strips should be used in roof valleys, while closure plugs should be used in deck flutes.
For use when a weather-tight seal is required
Closure strips are available in vented style, to allow air flow when needed
Solid closure strips should be at the ridge when using ridgeline ridge vent
Easy to cut and install
Available in a material to meet your spec
EPDM foam rubber
Laminated closed-cell, cross-linked polyethylene
Non-laminated, cross-linked polyethylene
Nomaco GF1 Foam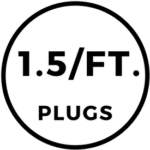 | SPECIFICATIONS | DETAIL |
| --- | --- |
| Standard Sizes | 1.5" B Deck |  2" Floor Deck | 3" Floor Deck |  | 3" N Deck |
| Dimensions |  varies by deck type |
| Standard Lengths |  varies by plug | 36" or 24" strips |
| Available Types | plug | strip |
About O'Donnell Metal Deck:
Whether you need corrugated metal decking for concrete or steel roof decking, you can count on O'Donnell Metal Deck. Our team is committed to providing the fastest and easiest service for metal decking, We offer fast same- and next-day delivery of our composite steel deck, roof deck, and steel form deck to the East Coast — proudly supplying for projects in Maryland, Washington DC, Virginia, West Virginia, Ohio, Tennessee, North Carolina, South Carolina, Delaware, New York, New Jersey, and Pennsylvania.